Thomas Hill - Biography
Immigrating from England in 1844, Thomas Hill came to America with his family as a youngster, and became one of America's most famous 19th-century landscape painters, especially of panoramic views of the Sierra Nevada Mountains and Yosemite. He also painted landscapes of the Grand Canyon and Yellowstone National Park, where he was particularly fascinated by the geysers.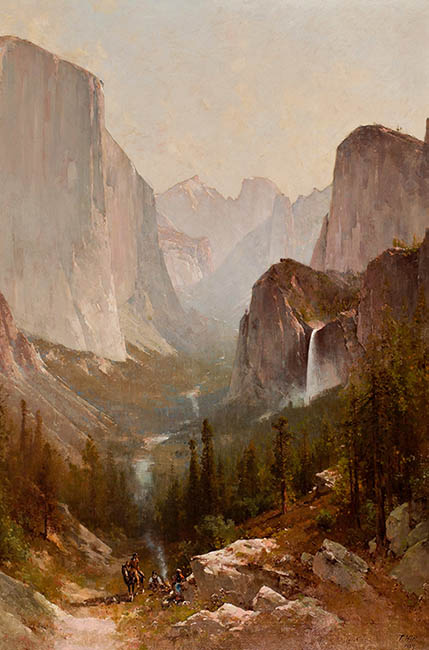 "Yosemite 1889"
Oil on canvas, 54 x 36 inches
SOLD

Hill studied art in Philadelphia at the Pennsylvania Academy, and his first intentions were to become a history painter. However, he changed to landscape when he spent time in Europe, especially France, among the Barbizon painters and in the studio of Paul Meyerheim.

During the 1870s and 1880s, his work brought high prices, but diminished with the increasing popularity of modernism. In the latter half of the 20th century, his work was rediscovered, and he is now considered one of the major figures in American art.

He settled with his family in Taunton, Massachusetts and worked in Boston with a carriage maker. He studied with Peter Rothermel at the Pennsylvania Academy of the Fine Arts and painted in Massachusetts and New Hampshire with George Inness, Virgil Williams, Albert Bierstadt, and his brother, Edward Hill.

Experiencing health problems with the cold, wet New England climate, Hill moved his family back to San Francisco in 1871.

He hit his artistic stride in California during the 1870s, beginning with his first grandiose painting, The Yosemite Valley, which was published as a chromolithograph by Prang. With Frederic Whymper, Hill was a founding member of the San Francisco Art Association, and in 1873, he became a member of the Bohemian Club, a men's organization dedicated to cultural enhancement.

Hill's paintings continued to bring higher prices in the 1870s, and he was a wealthy man by 1878. Soon thereafter, however, hard times fell upon the artist, as they did on the San Francisco economy and art market in general. He struggled through the next decade, moving back and forth to paint in the White Mountains of New Hampshire, and his beloved Yosemite Valley in California. During these years he was still acclaimed but experienced increasing financial distress. Also his marriage was not happy, which led him to spend more and more time in Yosemite.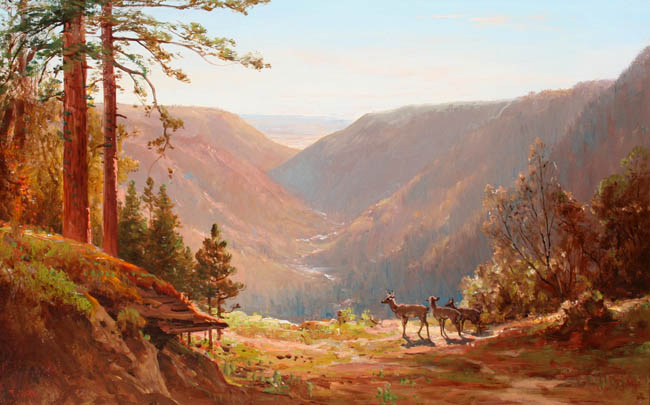 "Three Deer Overlooking the Valley"
Oil on board, 12 x 18 inches
SOLD

When his long-time friend and fellow artist Virgil Williams, director of the California School of Fine Arts, died in 1886, Hill agreed to take over as a director without compensation. By the following summer, however, running the school had become more than he could handle. John Muir and Alaska provided the means of escape. Muir, who normally preferred the landscapes of his friend William Keith, commissioned Hill to paint Muir Glacier in Glacier Bay, Alaska, 'because he could paint ice better than Keith'. Hill left his position at the School of Fine Arts in San Francisco in the summer of 1887, and took off on a cruise to Alaska that resulted in a number of Alaska and Canadian coastal pictures. He also spent a winter in New Orleans, creating large studio paintings.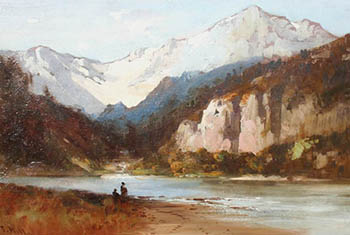 "Sierra"
Oil on board, 12 x 18 inches
SOLD

The commissioned painting of Muir Glacier that Hill completed in the winter of 1887-88, now in the collection of the Oakland Museum in California, bears a striking resemblance to another painting held by the Anchorage Museum of History and Art. It shows the same glacier, although the Anchorage painting is almost twice the size of the earlier version. Both portray the Muir Glacier and foreground beach with a distant steamship in the bay. Of the paintings in the collection at the Anchorage Museum, Hill's 'Muir Glacier' is certainly the grandest 19th century painting and most important work by a major artist of the period.
Hill's fortunes continued to vacillate until 1896 when he suffered the first of a series of strokes from which he never fully recovered. He died in 1908, and it is believed that his death was by suicide. Although the kind of work he and Keith did has been out of favor for most of the 20th century, the quality and importance of their painting has more recently been rediscovered.

Source: Edan Hughes, Artists in California, 1786-1940 Peter Hassrick, Drawn to Yellowstone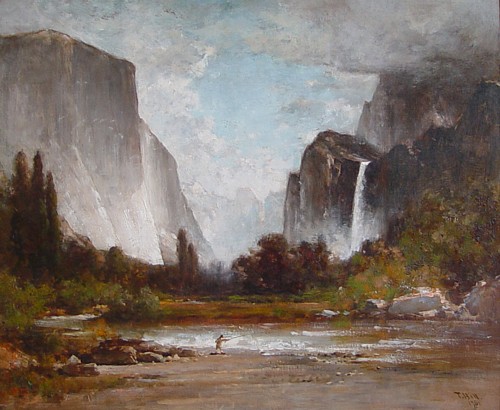 "Yosemite, 1901"
Oil on canvas, 20 x 30 inches
SOLD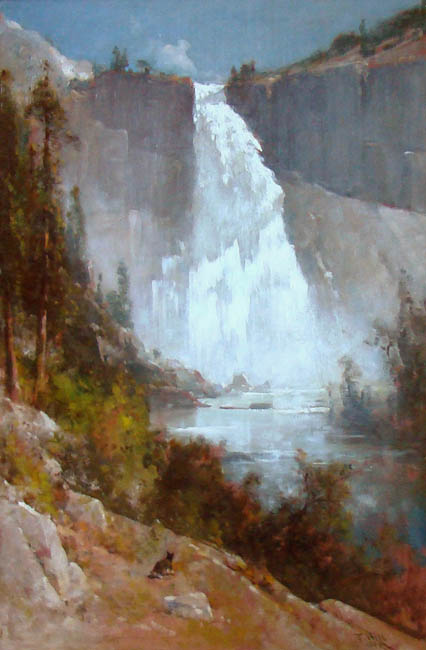 "Nevada Falls"
Oil on canvas, 30 x 20 inches
SOLD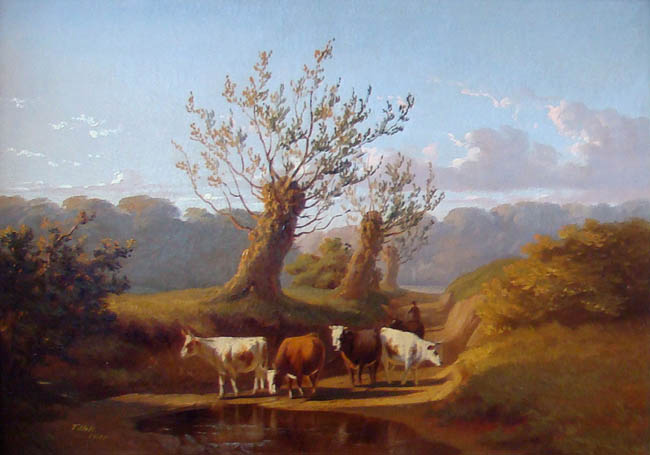 "Riverbed, Driving Cows to Water, 1855"
Oil on canvas, 14 x 20 inches
SOLD